Pompeii Regio VII (7) Insula 7.
Plan of entrances 1 to 32, including the Temple of Apollo.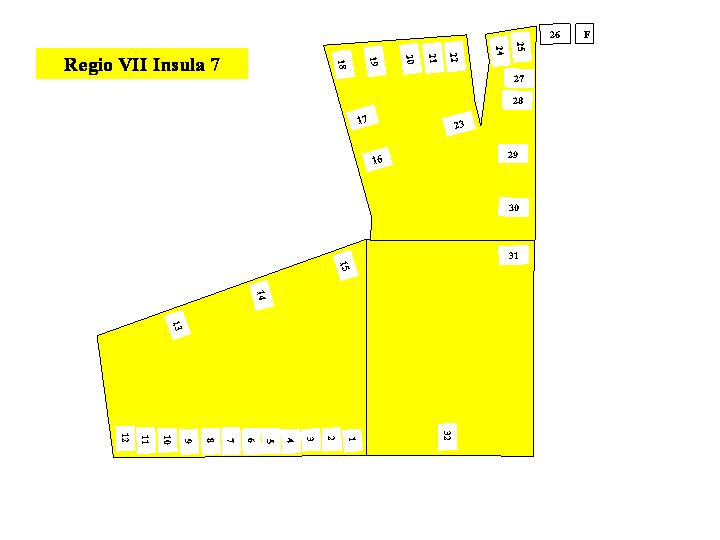 Use the pompeiiinpictures plan of the Insula 7 of Pompeii Regio VII to access the photographs.
Click on the entrance you want on the plan or click on a link below to reach the pictures.
Pompeii VII.7.1 Pompeii VII.7.2 Pompeii VII.7.3 Pompeii VII.7.4
Pompeii VII.7.5 Pompeii VII.7.6 Pompeii VII.7.7 Pompeii VII.7.8
Pompeii VII.7.9 Pompeii VII.7.10 Pompeii VII.7.11 Pompeii VII.7.12
Pompeii VII.7.13 Pompeii VII.7.14 Pompeii VII.7.15 Pompeii VII.7.16
Pompeii VII.7.17 Pompeii VII.7.18 Pompeii VII.7.19 Pompeii VII.7.20
Pompeii VII.7.21 Pompeii VII.7.22 Pompeii VII.7.23 Pompeii VII.7.24
Pompeii VII.7.25 Pompeii VII.7.26 Pompeii VII.7.27 Pompeii VII.7.28
Pompeii VII.7.29 Pompeii VII.7.30 Pompeii VII.7.31 Pompeii VII.7.32
Casa di Trittolemo or House of Tryptolemus
or House of Cissonii
or House of L. Calpurnius Diogenes VII.7.2 VII.7.5
House of Romulus & Remus
or House of Fabius H…. VII.7.10
Workshop and shop of Furius,
faber and negotiator eborarius (ivory) VII.7.11
Casa del veteranus Iulianus, avicularius VII.7.16
Caupona of Lucius Numinius VII.7.18
Casa dell'Altare di Giove VII.7.21
House of C. Julius Primigenius VII.7.23
Forum Latrine VII.7.28
Forum granary market VII.7.29
School. VII.7.30
Mensa Ponderaria
Weights and measures bench VII.7.31
Temple of Apollo VII.7.32