A complete photographic plan of ancient Pompeii as it is today, produced by Jackie and Bob Dunn for those as enthusiastic about Pompeii as we are.

The site has now expanded beyond just Pompeii, to encompass areas such as Herculaneum, Stabiae, Oplontis, Boscoreale, Boscotrecase, Gragnano, Scafati and surrounding areas.
Clicking on the name on the bar for any of these options will open the bar and give access to the information and photos. Clicking again will close it.
By default, as you would expect, the Pompeii bar is open first.
Regio V updated with the new discoveries
We have updated our pages for Regio V to include the new excavations in all the insulae.
We thank Prof. Osanna and the Parco Archeologico di Pompei for giving us permission to use their press release photos and material of the excavations of Regio V from which we have reconstructed our pages and placed the new discoveries in what we believe are their correct locations.
Abbiamo aggiornato le nostre pagine per Regio V per includere i nuovi scavi in tutte le insule.
Ringraziamo il Prof. Osanna e il Parco Archeologico di Pompei per averci dato il permesso di utilizzare le loro foto comunicate stampa e il materiale degli scavi di Regio V da cui abbiamo ricostruito la nostra pagine e collocato le nuove scoperte in quelle che crediamo siano le loro posizioni corrette.
The following pages are amongst those updated:
Le seguenti pagine sono tra quelle aggiornate:
V.2.15 Casa di Giove or House of Jupiter
V.2 Casa di Orione or House of Orion
V.3 Larario sontuoso Sumptuous lararium
V.3 Casa con/dei Giardino House with garden
V.3 Case con Balconi Balcony houses
V.3 Piccola fullonica Small fullonica with entrance on Via di Nola
Termopolio con Nereide Richly decorated thermopolium at crossroads between Vicolo delle Nozze d'Argento and Vicolo dei Balconi
Termopolio con Gladiatori Combattenti Bar with fresco of gladiatorial contest, at crossroads between Vicolo delle Nozze d'Argento and Vicolo dei Balconi
Oggetti trovati durante gli scavi del 2018-9 Items found in the excavations of 2018-9
V.6.1 Caupona of Manius Salarius Crocus?
V.6.7 House with a fountain or nymphaeum.
V.6.12 House with painting of Priapus, Leda and the Swan and Narcissus.
V.7.1 Casa degli Amorini, House of the Cupids.
V.7.6 House of Paris
V.7.7 Casa dei Delfini, House of the Dolphins.
V.7.8 Doorway with ash imprint of the original wooden doors.
Vicolo_dei_balconi Street of the balconies
Vicolo_delle_Nozze_d_Argento Vicolo delle Nozze d'Argento
Vicolo_di_Cecilio_Giocondo Vicolo di Cecilio Giocondo
Fountain V.8/V.3 Newly excavated fountain in quadrivio between V.8 and V.3
The relevant plans, names index and many other pages have also been updated.
Sono stati inoltre aggiornati i relativi piani, l'indice dei nomi e molte altre pagine.
Fifteen new villas added
Pompeii
Boscoreale
Boscotrecase
Gragnano
Valle di Pompei
New Temple added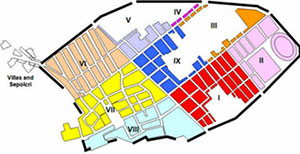 Use the pompeiiinpictures interactive map, buttons or links to view pictures of the excavations at Pompeii of every regio, insula, house, shop, villa, temple, baths, altar, fountain, gate, tomb or tower.
Please press on a Regio of the coloured plan to go to the next plan and to the photographs or press one of the links below.
Regio:
| | |
| --- | --- |
| Altare nelle strade | |
| Archi | |
| Terme | |
| Calchi | |
| Scheletri | |
| Fontane e acqua | |
| Le Porte | |
| Mappe di Pompei | |
| Edifici pubblici | |
| Vedute di ogni strada | |
Pompei Guide turistiche
Pompeii Tourist Guides
Guida agli scavi di Pompei
Italiano
A Guide to the Pompeii
Excavations
English
Guía de las excavaciones
de Pompeya
Espanol

Guide aux fouilles de Pompéi

Francais
Führer durch die Ausgrabungen
von Pompeji
Deutsch
Путеводитель по раскопкам
города Помпеи

ポンペイ遺跡ガイド

龐貝指南

دليل

بومبيي

Arabic
Copyright
Every effort has been made to secure permission for any copyright material. In the event of any material being used inadvertently, please contact us, stating the location and nature of the copyright issue, your contact details and whether you are the copyright holder or what your role is in relation to the copyright holder.
The low resolution pictures on this site are copyright © of Jackie and Bob Dunn and MAY NOT IN ANY CIRCUMSTANCES BE USED FOR GAIN OR REWARD COMMERCIALLY. On concession of the Ministero per i Beni e le Attività Culturali - Parco Archeologico di Pompei. It is declared that such reproduction or duplication cannot be considered legitimate without the written authorization of the Parco Archeologico di Pompei.
Le immagini fotografiche a bassa risoluzione pubblicate su questo web site sono copyright © di Jackie e Bob Dunn E NON POSSONO ESSERE UTILIZZATE, IN ALCUNA CIRCOSTANZA, PER GUADAGNO O RICOMPENSA COMMERCIALMENTE. Su concessione del Ministero per i Beni e le Attività Culturali - Parco Archeologico di Pompei. Si comunica che tale riproduzione o duplicazione non può considerarsi legittimo senza l'autorizzazione scritta del Parco Archeologico di Pompei.
Copyright © 2019 · All Rights Reserved · Jackie and Bob Dunn
Ultimo aggiornamento - Last updated: 02-Apr-2020 23:25