V.4.a Pompeii. House of Marcus Lucretius Fronto or Casa di Marco Lucrezio Frontone
Plan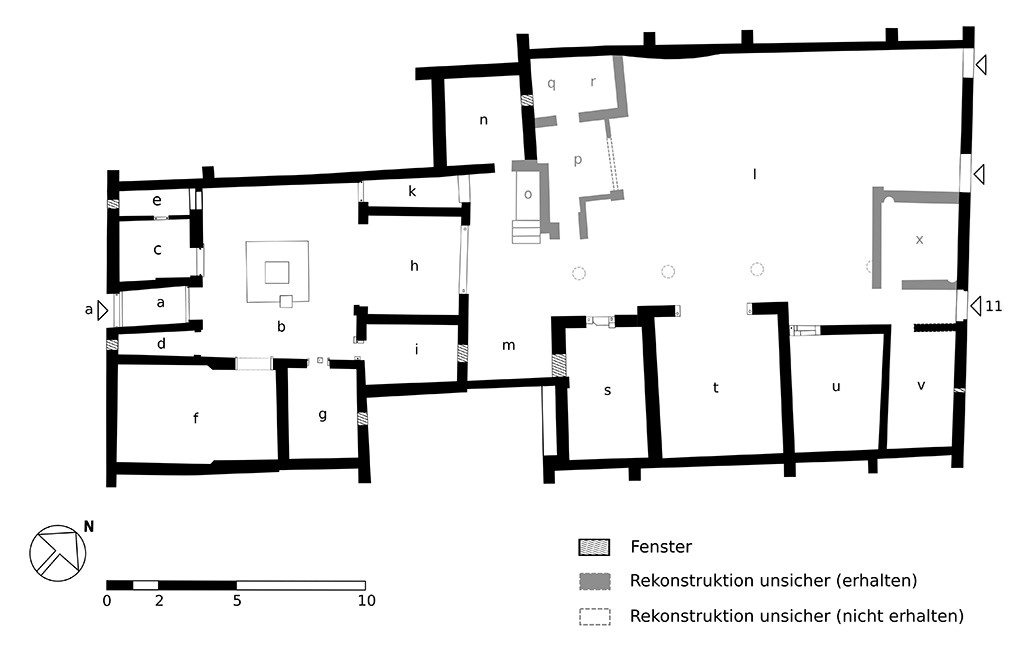 Pompeii V.4.a/11. Casa di Marco Lucrezio Frontone. Plan courtesy of Annette Haug.
If your screen is large enough (more than 1024px wide) press the area you want on the plan to see the pictures.
If you are on a smaller screen such as a phone or tablet you can use the links below to see the pictures.
Pompeii V.4.a Quickie Quick Overview
Pompeii V.4.a House Area Rooms "a" to "k"
Pompeii V.4.a Garden Area Rooms "l" to "x"
Key
Ground level
a: Entrance and fauces at V.4.a.
b: Atrium
c: Cubiculum
d: Storage area
e: Wooden stairs with two initial masonry steps
f: Triclinium
g: Cubiculum
h: Tablinum
i: Cubiculum
k: Corridor leading to the service area
l: Garden
m: Light well and rainwater collection area
n: Storage area, possibly previously a cubiculum
o: Steps to upper floor
p: Anteroom to the kitchen
q: Kitchen
r: South part a cupboard; north part a latrine
s: Small triclinium or biclinium
t: Summer triclinium
u: Room where eight skeletons were found
v: Service area
x: Service area or stable
11: Entrance at V.4.11.
Upper floor
Stairways in room "e" and the western end of garden "l" indicate that these areas had upper-storey rooms.
Bastet and Heres have recorded rooms above the front of the house.
Mau recorded a large room above rooms "i" and "h" with remains of a pavement and simply decorated in the Third Style on a black ground.
Mau also noted further rooms above the kitchen area.
See Bastet, F.L., 1975. Forschungen im Haus des M. Lucretius Fronto. In Neue Forschungen in Pompeji, Recklinghausen: Aurel Bongers, p. 193-197.
See Mau, A., 1901. Ausgrabungen vom Pompeji. Mitteilungen des Deutschen Archäologischen Instituts, Römische Abteilung 16, p. 283-365.
See Peters, W.J., Moormann E.M., Heres T.L. , 1993. La Casa di Marcus Lucretius Fronto a Pompei e le sue pitture. Amsterdam: Thesis Publishers, p. 83, Fig. 191.
House area
The house area has pictures of
The atrium, the impluvium, the compluvium
A marble table
The tablinum and a cubiculum
The summer triclinium and winter triclinium
The house area has pictures of wall paintings of
Bacchus and Ariadne
Mars and Venus
Narcissus
Pero suckling her father Micone
A young girl
A boy shown with the attributes of Mercury
- a winged helmet and a caduceus
Theseus and Ariadne in front of the Labyrinth
Orestes killing Neoptolemus
The toilet of Venus or Toilette d' Aphrodite
Pyramus and Thisbe
Dionysus with Silenus playing the lyre.
Garden area
The garden area has pictures of
The kitchen, the stairs to the upper floor
The portico, an exedra
The hunting fresco with life size animals
Please be aware that the room numbers shown may differ from any other plans or records both published and unpublished.