Pompeii. Shrine in the Stabian Gate or Porta di Stabia.
<![if !vml]>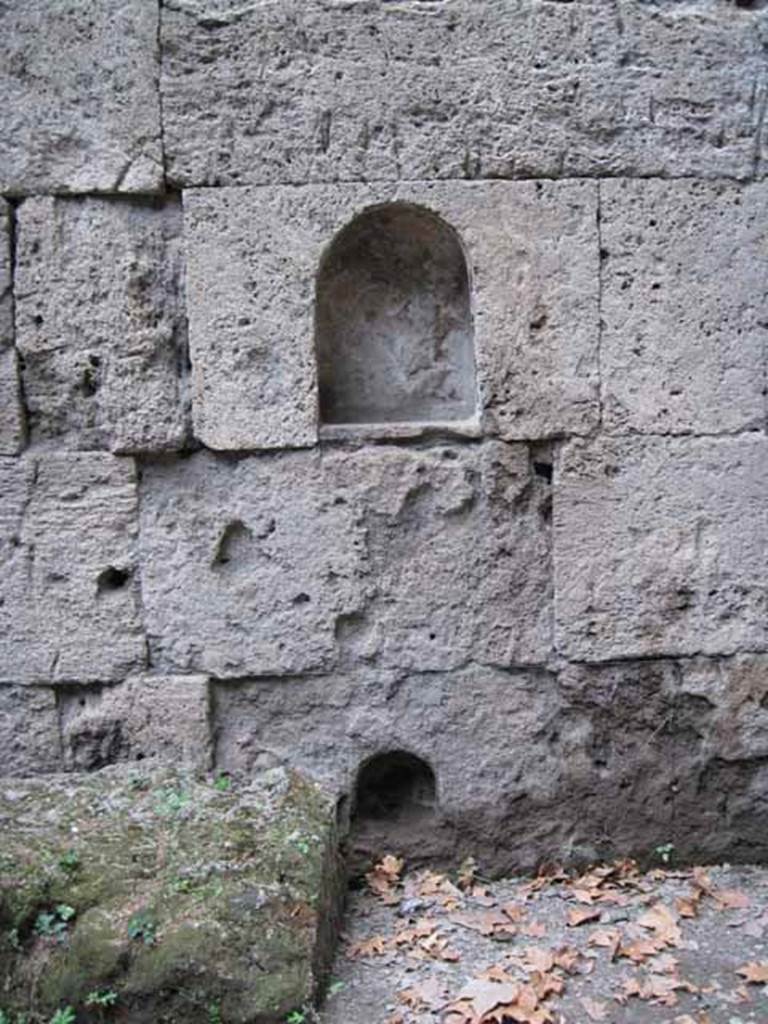 <![endif]>
Pompeii. Porta di Stabia or Stabian Gate. September 2010.
Two niches in east wall of gate. Photo courtesy of Drew Baker.
<![if !vml]>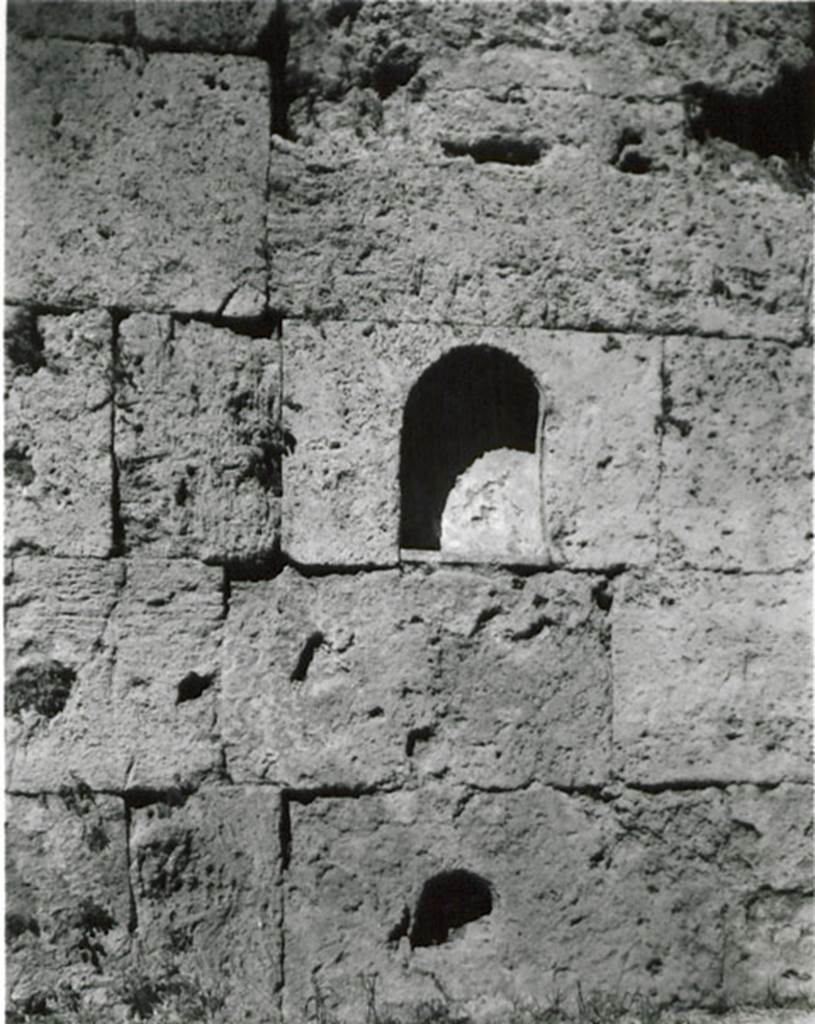 <![endif]>
Pompeii Stabian Gate. Photograph c. 1936 by Tatiana Warscher. Two niches on east side.
See Warscher T., 1936. Codex Topographicus Pompeianus Regio I.1, I.5. Rome: DAIR. No. 9.
<![if !vml]>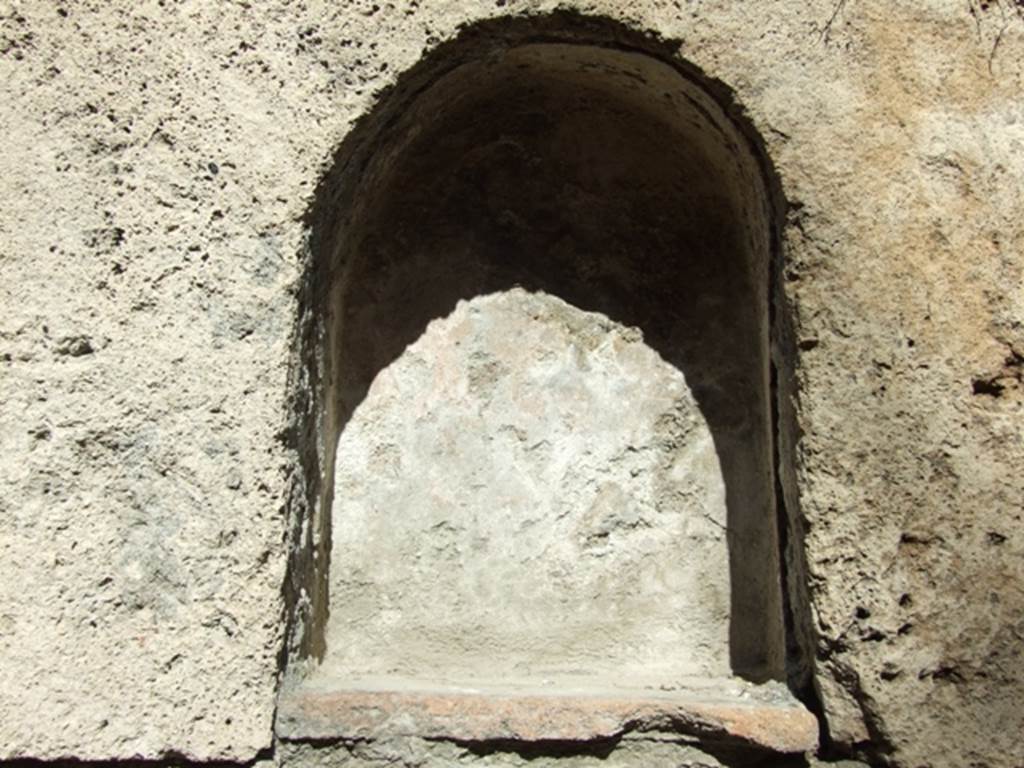 <![endif]>
Pompeii. Porta di Stabia or Stabian Gate. March 2009. Upper niche in east wall. 
Fiorelli stated that the niche had a covered inner of stucco, it had at the bottom graffiti in large letters PATRVA, name of Minerva, whose image without doubt was placed here for protection of the Gate.
See Pappalardo, U., 2001. La Descrizione di Pompei per Giuseppe Fiorelli (1875). Napoli: Massa Editore. (p.32).
<![if !vml]>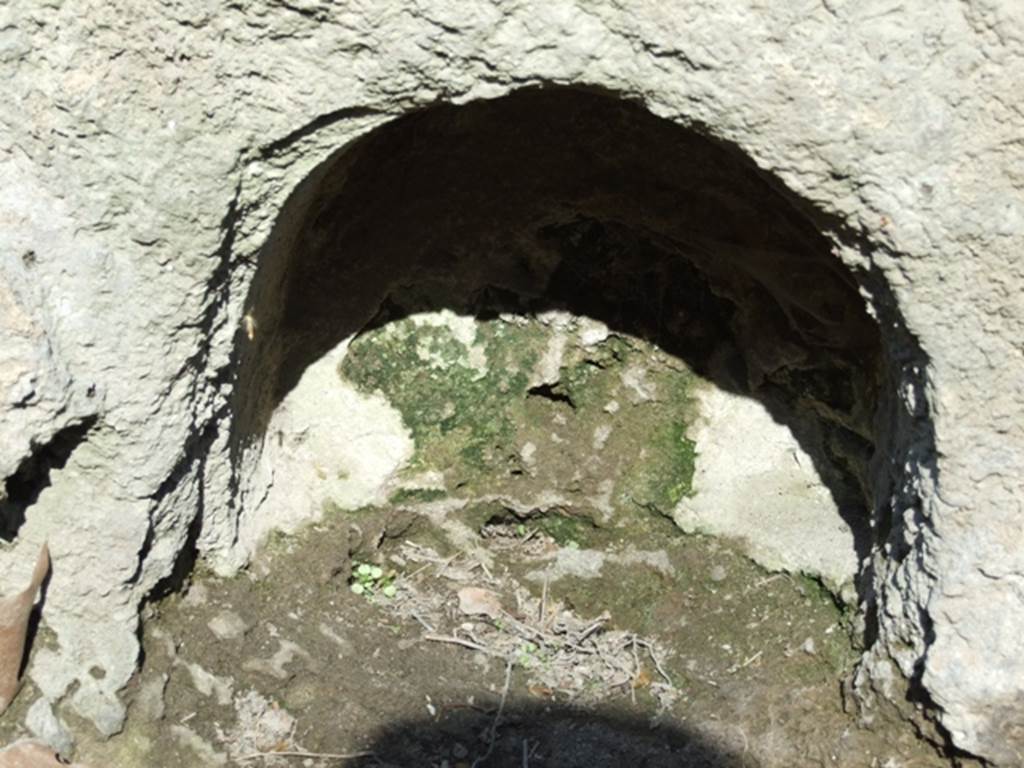 <![endif]>
Pompeii. Porta di Stabia or Stabian Gate. March 2009. Lower niche in east wall. 
<![if !vml]>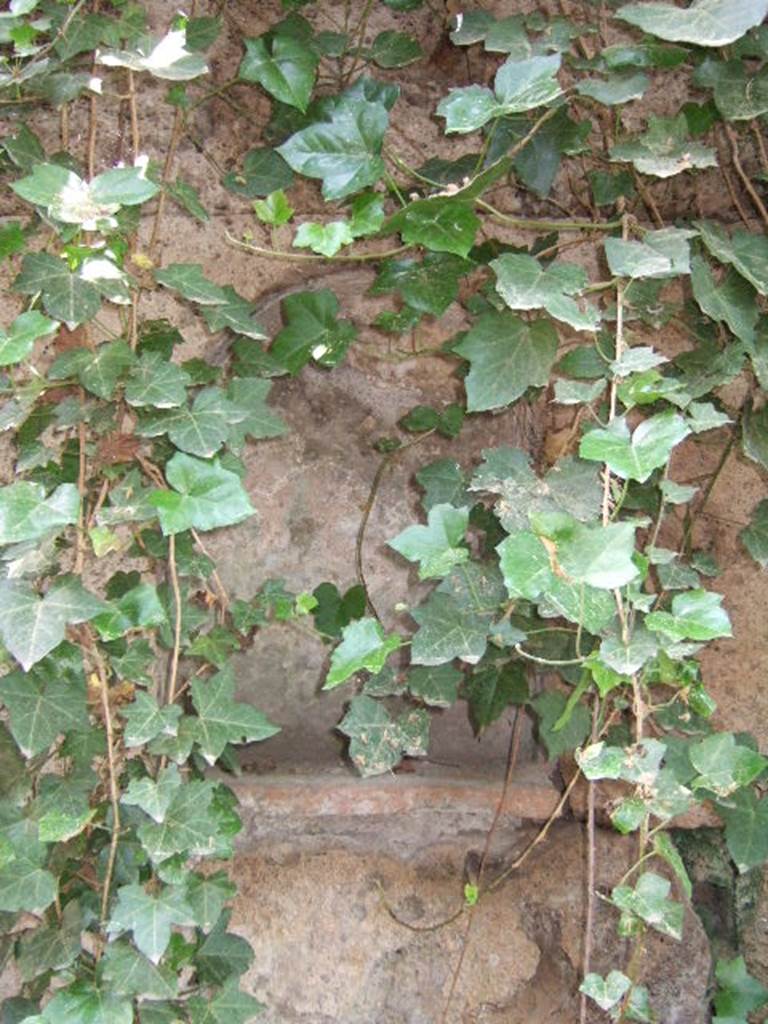 <![endif]>
Pompeii. Porta di Stabia or Stabian Gate. May 2006. Niche on east side. 
The following narrative and images of the Shrine in the Stabian gate are the intellectual property of Dr Steven Ellis et al. of the Pompeii Archaeological Research Project: Porta Stabia (PARP:PS) and are reproduced with the kind permission of Dr Ellis.
According to the PARP:PS 2006 report:
Two arched wall niches, one larger above a smaller niche below, survive still in the eastern wall of the Porta Stabia. They were probably street shrines and early excavators found traces of painting in the uppermost one (now lost). Recent excavations in the city have excavated the sidewalk below such street-side shrines, although to find shrines associated with a city gate is rare in Pompeii. Therefore we decided we would investigate this area this season to learn more about them and uncover any associated ritual activities.
Our excavations revealed a sequence of sidewalk surfaces below the 79 CE level. The earliest surface we encountered was laid against the Porta Stabia sometime in the late 2nd century BCE, indicating that yet earlier sequences remain to be discovered in future seasons.
The lower, smaller niche was presumably made first in accord with a small square altar or podium that was inserted against the east wall of the gate. Its first associated surface was eventually raised, which meant the lower portion of the altar became buried. At this point, a ritual deposit was made in the raised sequence of levels to retain the altar's sacred character. We recovered a small votive cup containing a small amount of carbonised remains, rim fragment of a glass plate, and a votive bowl in which was found the terracotta bust of a woman broken into three pieces. Her secure identification awaits further study and association with similar finds. Ecofactual material included a single vertebra, a fragment of jawbone and other unidentified bone fragments and pieces of charcoal.
When the sidewalk was raised for the final time in this area, the altar/podium became completely covered. It is therefore plausible that this action resulted in the cutting of the higher and larger niche into the east wall of the Gate. While the earlier partial covering of the altar resulted in votive offerings, its complete burial produced no observable ritual. This lack of votive deposits may be attributed to the possibility that the (contemporary) creation of the upper large niche required no offerings to be placed in the ground.
See Pompeii Archaeological Research Project: Porta Stabia. 2006 Season, The Porta Stabia Votive Deposit (Trench 10000)
More detail on the project can be found at https://classics.uc.edu/pompeii/index.php/project/necropolisandgate.html and http://www.fastionline.org/site/AIAC_356
 <![if !vml]>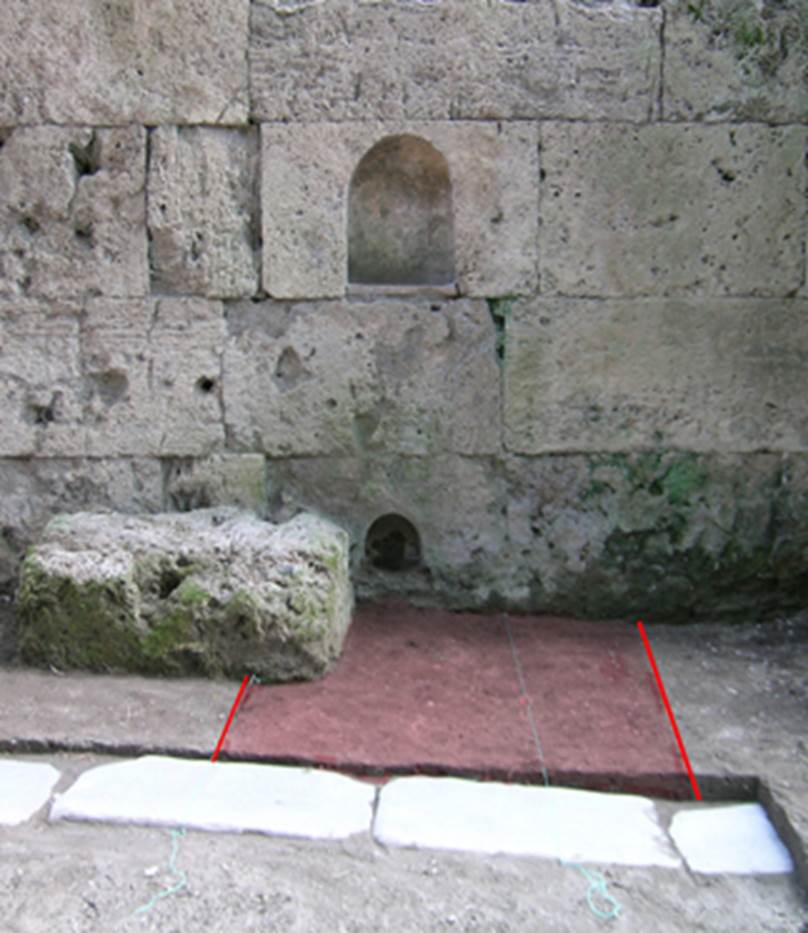 <![endif]>
The two niches and area excavated in red.
<![if !vml]>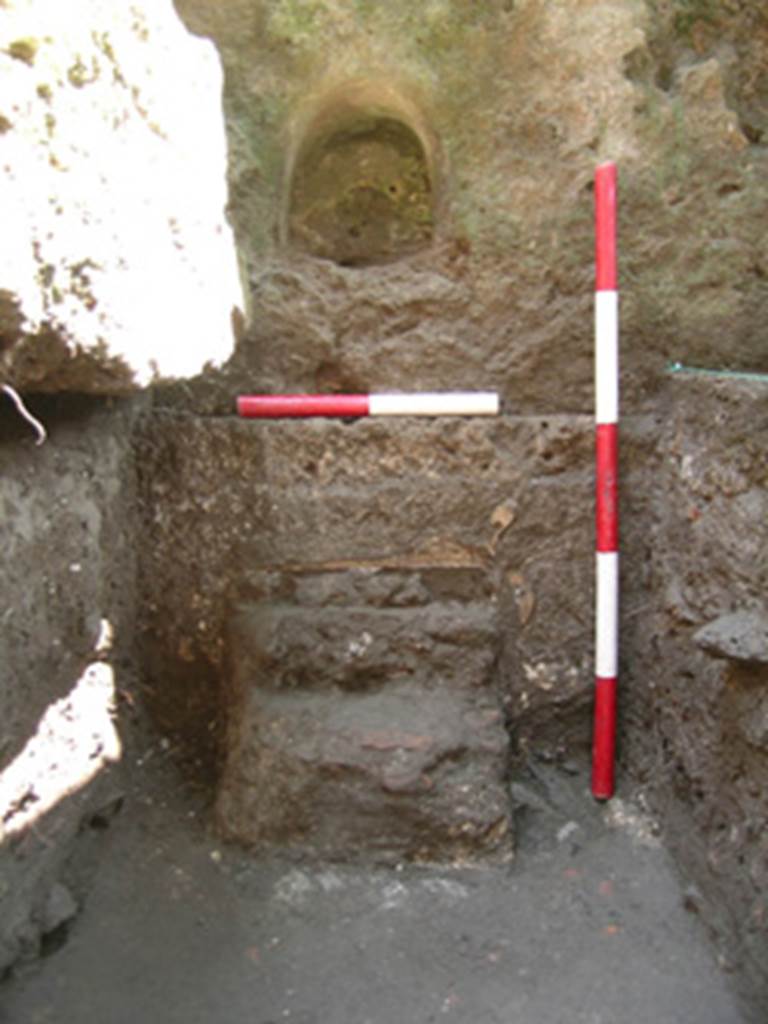 <![endif]>
The buried altar under the small niche.
<![if !vml]>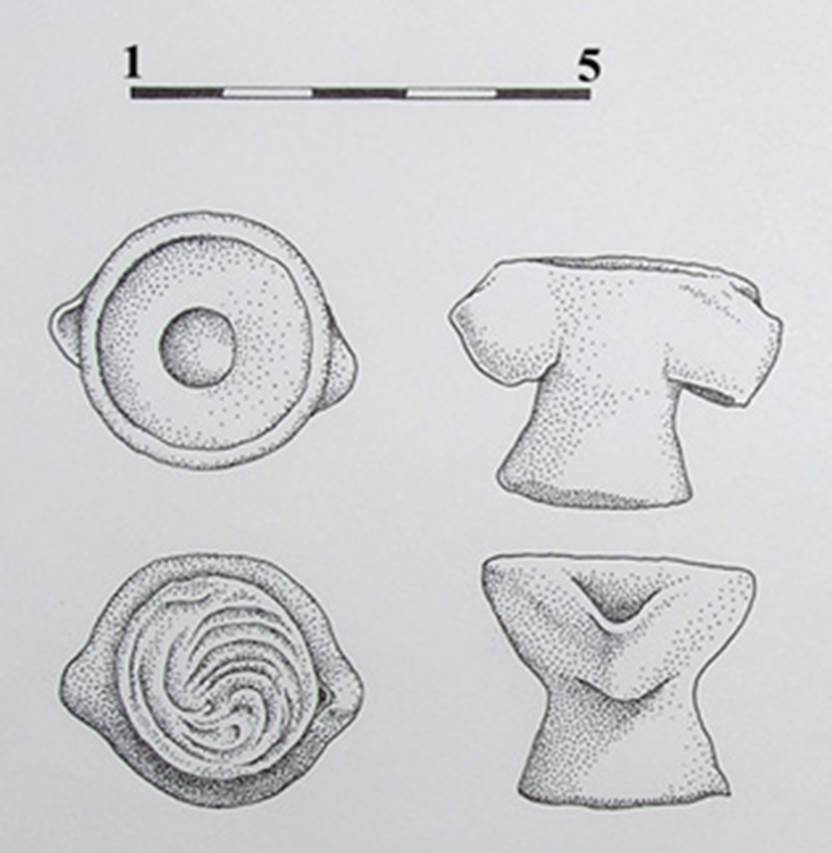 <![endif]>
The votive cup. (Drawn by Gina Tibbott)
<![if !vml]>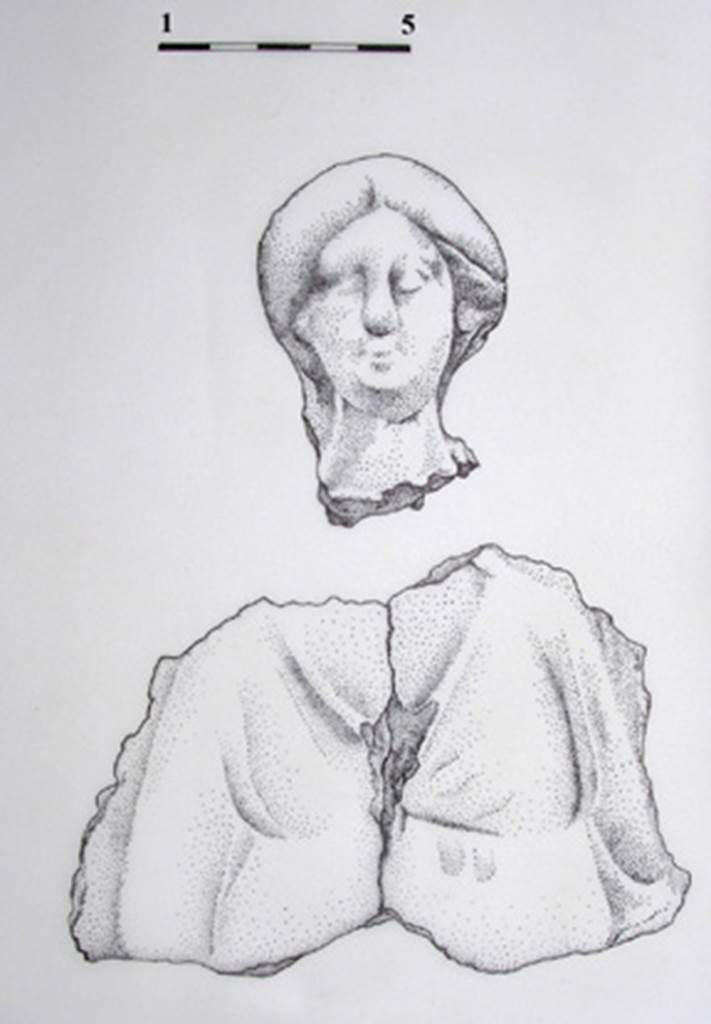 <![endif]>
The broken terracotta figurine. (Drawn by Gina Tibbott)