Pompeii street shrine at IX.7.20.
<![if !vml]>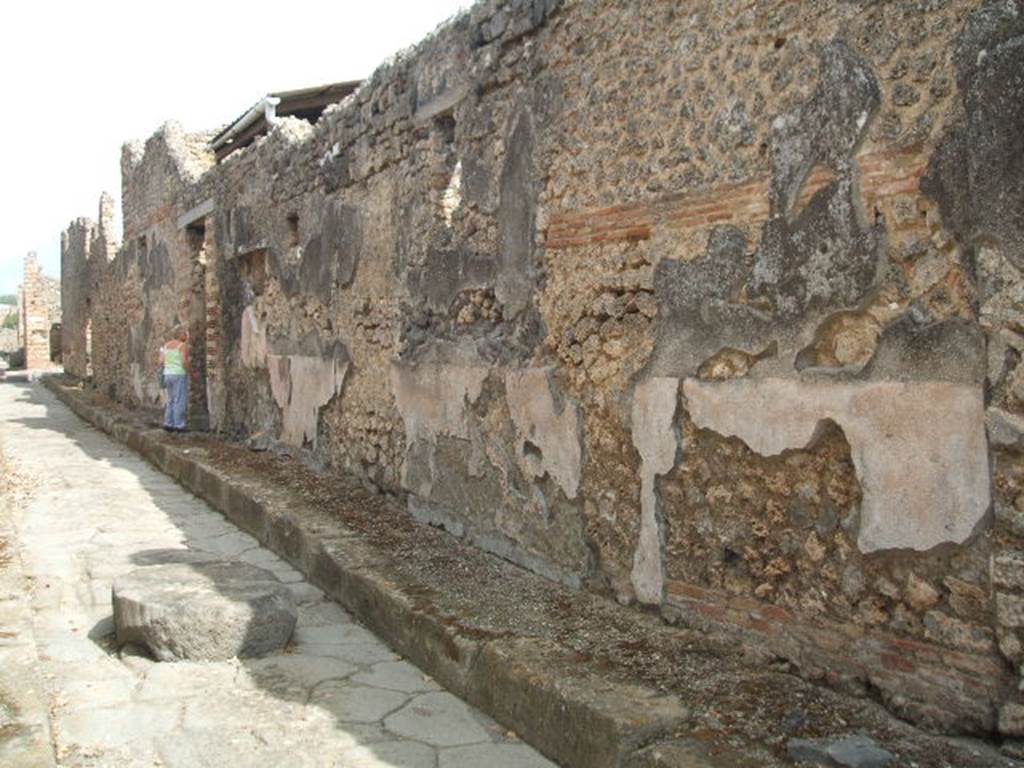 <![endif]>
Vicolo di Tesmo looking north past remaining painted plaster on walls outside IX.7.20.
On the exterior wall of IX.7.20, opposite the doorways of IX.2.17/18, a large painted lararium was found.
According to Trendelenburg, this stood out because of the freshness and strength of the colours.
It was divided into two parts, of differing sizes. The upper part was 1.47m wide and the lower part was 4.12m wide.
The upper part showed the two Lares.
In the middle between them was the Genius with cornucopia, dressed in a white tunic holding a patera above a flaming altar.
Behind the altar was the figure of small tibicen who played the double pipes.
Suspended above were two garlands and above the garlands appeared the bust of Luna on the left and a bust of Sole on the right.
The lower part showed a tall altar in the centre and three heads of Medusa.
Two serpents approached the altar, one from each side.
See Trendelenburg in BdI 1871, pp. 199-200.
See Sogliano, A., 1879. Le pitture murali campane scoverte negli anni 1867-79. Napoli: Giannini. (p.14, No. 33).
See Fröhlich, T., 1991. Lararien und Fassadenbilder in den Vesuvstädten. Mainz: von Zabern. (F65, p. 335)